Hero dog, sacrificed his life to save his owner from poisonous snakes. np
A dog bravely killed 4 poisonous snakes alone, saving the life of his owner's family.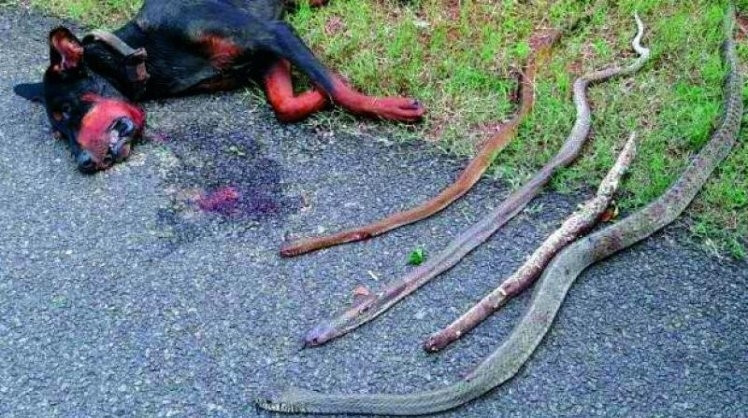 The dog alone destroyed 4 cobras and did not survive due to their deadly bites. (Photo: Deccan Chronicle)
The Deccan Chronicle reported that on Monday night earlier this week, a pack of four mountain cobras tried to break into the home of the owner, Dibakar Raita, in Sebekapur village, Gajapati district, Odisha state, India. The snakes are said to have crept into the house in search of drier shelter.
Fortunately for the above family, their 
Doberman-like dog
 promptly discovered the snakes, bit them to death alone, but was poisoned and did not survive.
Witnesses reported that the fierce battle took place for a long time, with a lot of blood pouring out from the wounds of the dog and the snakes. Dibakar Raita's family said they were still shocked after the incident.
" I was shocked. The dog sacrificed himself to save me and my family. I will miss him for the rest of my life. May God rest in peace soon," Dibakar  said.
Touched by the brave dog's sacrifice, the villagers brought wreaths to lay on his body and held a funeral before burial.